Wilton, United Kingdom, Koch Technology Solutions (KTS) UK Limited, the technology licensing group of Koch Engineered Solutions, has successfully supported Huaheng Energy Technology Co. Ltd. (Huaheng) in the commissioning of the first of its new PTMEG (polytetrahydrofuran) plants in Inner Mongolia.  
Huaheng has 3 lines of BDO (1,4 Butanediol), each with 100 KTA capacity and 4 lines of PTMEG each with 46 KTA capacity, all of which utilize KTS's industry-leading BDO, THF & PTMEG package of licensed technologies.  
The plant was commissioned safely and ran at full rates after 10 days and is the first unit to be started up as part of a new production complex. When fully established, this will be the largest single production facility using KTS' BDO, THF & PTMEG technology package with a combined total complex output of nearly half a million tons per year.  
PTMEG is a key product in the BDO industrial chain for synthetic fibre production. The plant in Wuhai, Inner Mongolia fills a critical gap in the fine chemical industry chain. 
Adam Sackett, President, KTS, said, "We have deeply valued the trust that Huaheng has placed in KTS for the development of their business in the BDO and PTMEG value chain. It is hugely rewarding to see the first successful outcome of all the work we have done together. We look forward to the successful startup and long-term optimization of the remaining lines in the complex and the opportunity to continue to work with such a valued partner."     
Chairman of Huaheng, Mr. Cai said "The selection of KTS's BDO and PTMEG technologies as our investment is a critical step of our company's development in recent years. We are honored that we will have a cooperative relationship with KTS and look forward to deepening our mutually beneficial cooperation. Huaheng also would like to join hands with KTS to create a better tomorrow with openness, cooperation, and innovation." 
KTS's industry-leading BDO, THF & PTMEG technologies, are available as a license package from KTS.
BDO Value Chain – Estimated Global Demand for 2024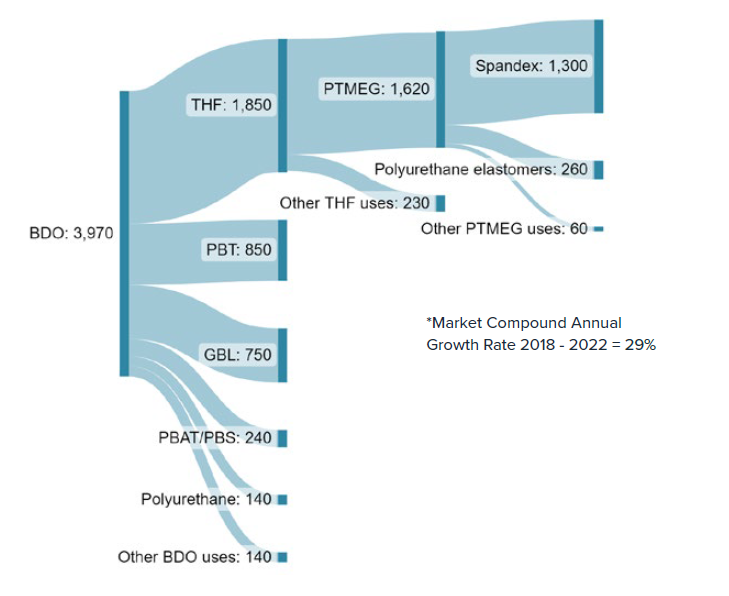 About Koch Technology Solutions:  
Koch Technology Solutions (KTS) is a technology licensing business, a part of Koch Engineered Solutions (KES). KTS creates value for their customers across a growing portfolio of technologies including the polyester value chain, the refining industry and 1,4-Butanediol plus its derivatives. KTS can combine their exclusive technologies, expertise, and capabilities with those of other KES companies can provide solutions that maximize the economics of your new investments and optimize your existing assets.  
About Koch Engineered Solutions 
Koch Engineered Solutions (KES) delivers superior value in developing, integrating, and applying innovative technical and service solutions for industrial value chains. KES offers uniquely engineered solutions in construction; mass and heat transfer; combustion and emissions controls; filtration; separation; materials applications; automation and actuation. KES is a subsidiary of Koch Industries, one of the largest private companies in the world. More information is available at KochEngineeredSolutions.com.